Healthy Recipe Ideas from Weight Loss NYC
Classic green salads become much sweeter when you add in fresh, ripe avocado. Season to your taste. Mix it up with different onions and tomato varieties. Don't worry, the garlic powder won't overpower, it really makes it sweeter. This is one of Dr. Aron's personal favorites!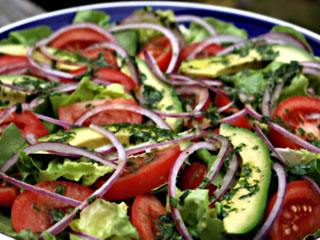 Vegetarian
Salad
Serves: 6
Calories: 81
Ingredients:
6 cups mixed salad greens
3 medium ripe tomatoes, cut into ¾-inch cubes
5 green onions, chopped
1 small cucumber, partially peeled and cut into ¾-inch cubes
3 Tbsp. lemon juice, divided
1/3 tsp. garlic powder
1 tsp. of coarsely ground black pepper
½ tsp. salt
1 large ripe California avocado, peeled
Steps:
Thoroughly mix bite-sized salad greens, tomatoes, onions, and cucumber in a large serving bowl. Toss with 2 tablespoons lemon juice, garlic powder, black pepper and salt. Peel and cut avocado in half. Remove pit and slice into thin wedges, about 1/8-inch thick. Arrange slices on top of salad like a starburst. Brush remaining lemon juice and serve immediately.