Healthy Recipe Ideas from Weight Loss NYC
Mom always said to eat your carrots. Now you can impress on that favor in style. Adding in some popular seasonings you're sure to have at home, sweeten or spice it up as you like. You'll never think of carrots as plain jane again.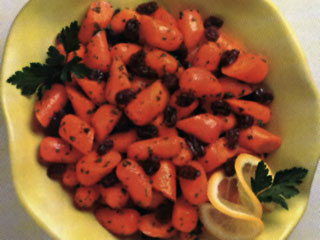 Mediterranean
Salad
Serves: 6
Calories: 134
Ingredients:
1 pound baby carrots
2 tablespoons lemon juice
1 teaspoon sugar
½ teaspoon paprika
¼ teaspoon ground cumin
¼ teaspoons ground cinnamon
¼ teaspoon salt
1/8 teaspoon cayenne pepper
1 tablespoon olive oil
¼ cup parsley, minced
1 cup raisins
Lettuce leaves, optional
Steps:
Slice carrots, diagonally, into 2 or 3 pieces.
Cook carrots in boiling water until crisp-tender, .
Drain, rinse with cold water, and drain again. Set aside to cool.
Combine lemon juice, sugar, paprika, cumin, cinnamon, salt, and cayenne pepper.
Stir to dissolve sugar and salt.
Stir in olive oil, parsley, and raisins.
Add carrots and toss.
Cover and refrigerate at least to chill and blend flavors.
Stir occasionally.
Serve on lettuce leaves, if desired.
Recipe Ideas, from Weight Loss NYC